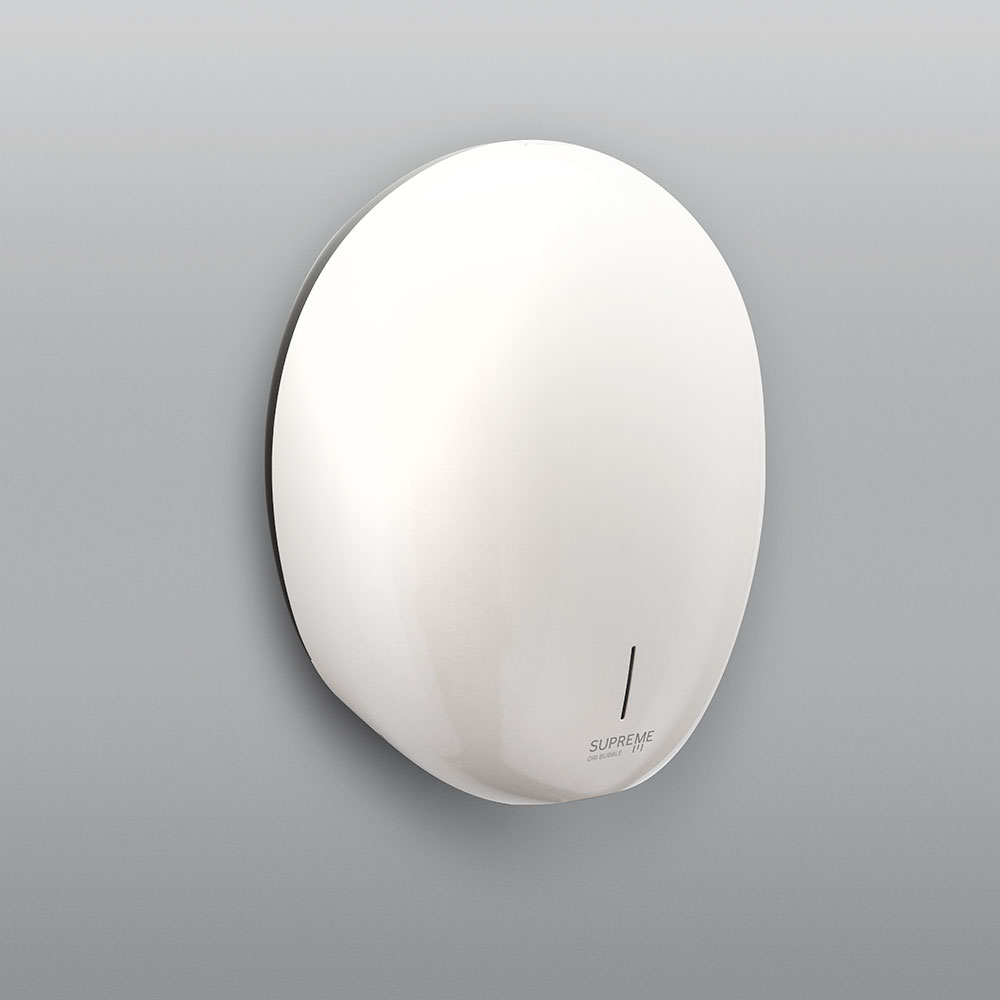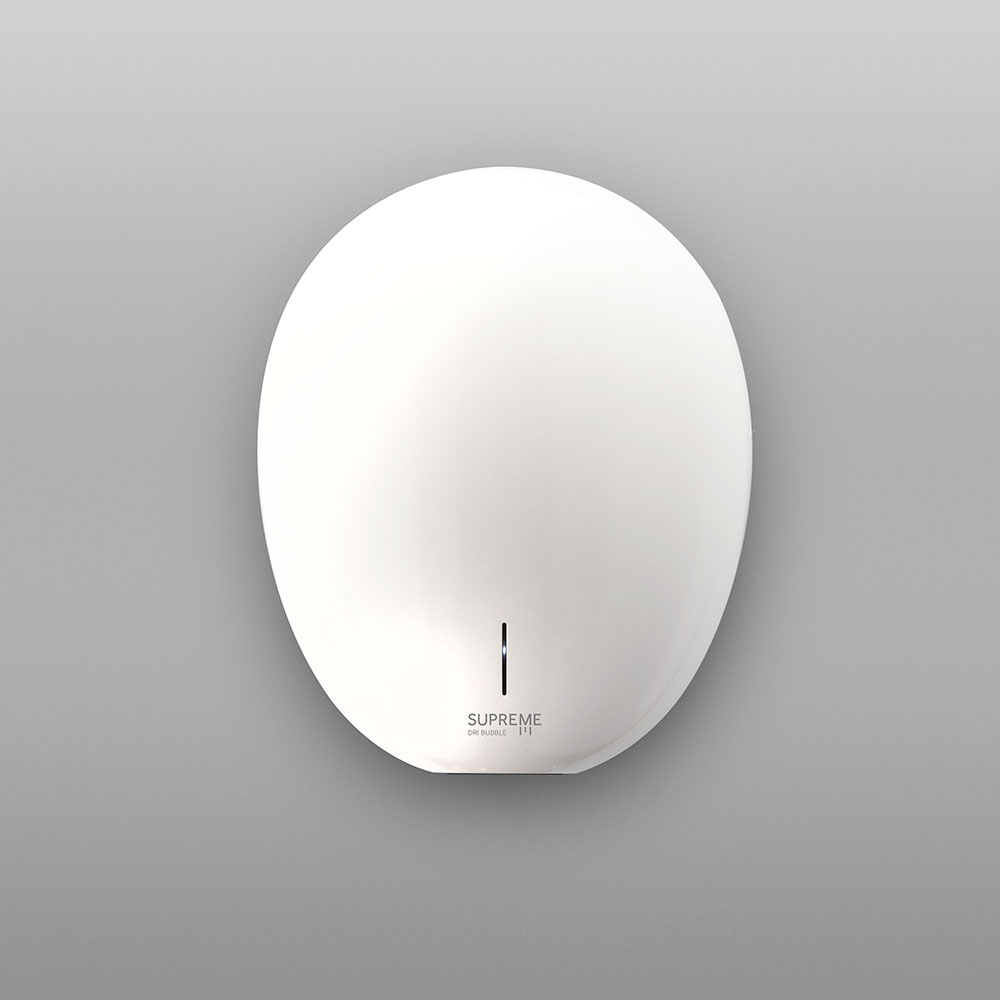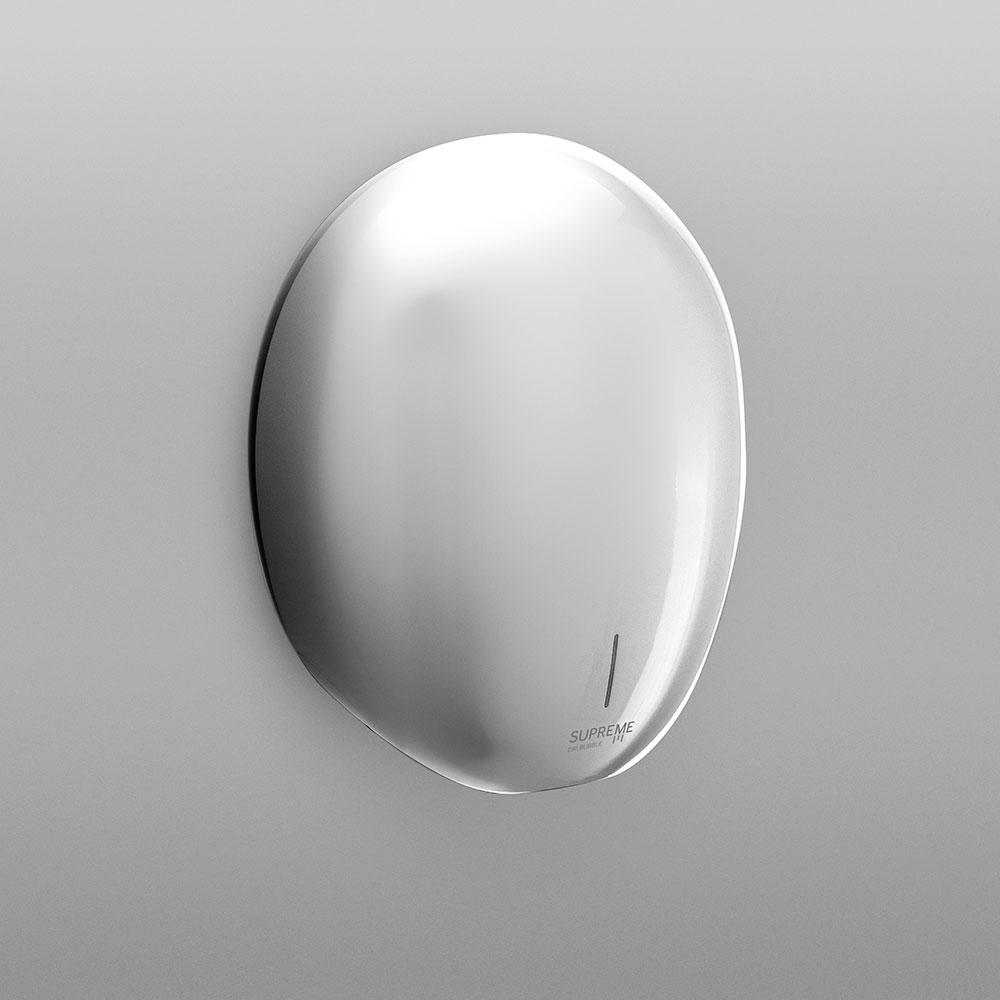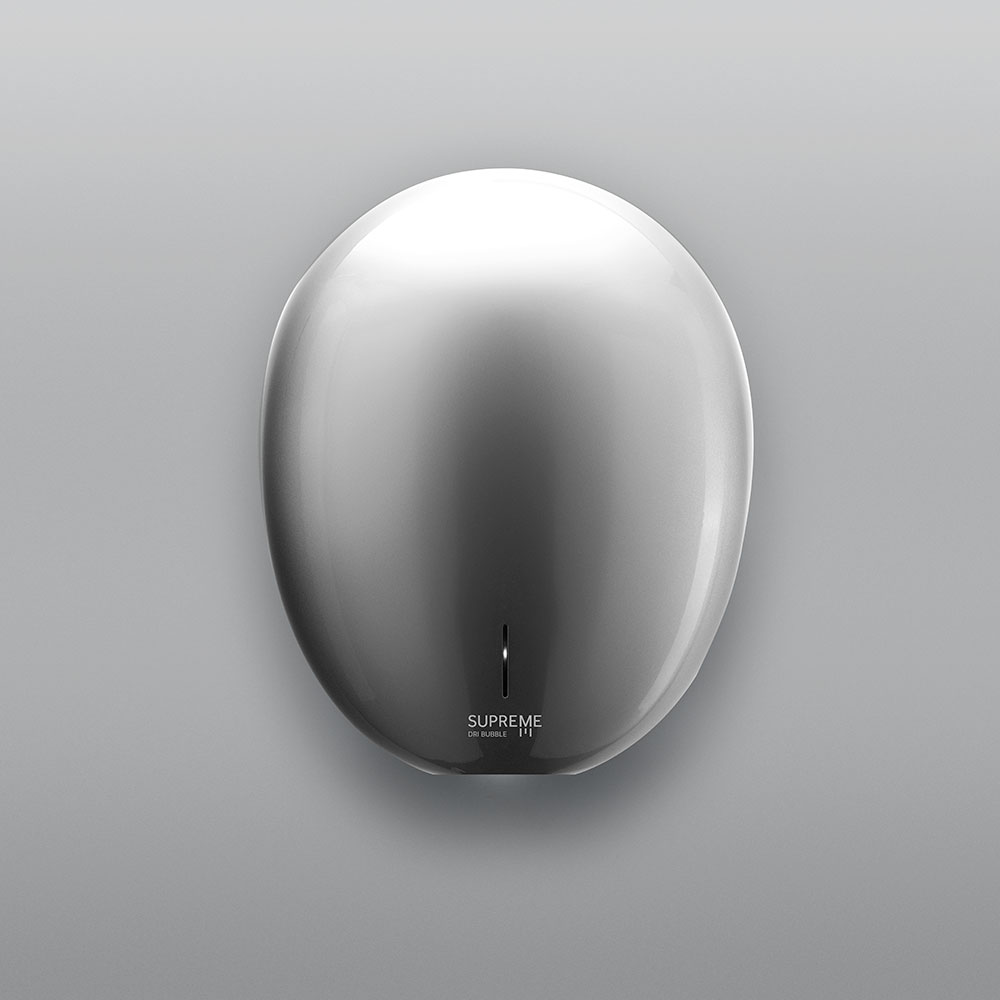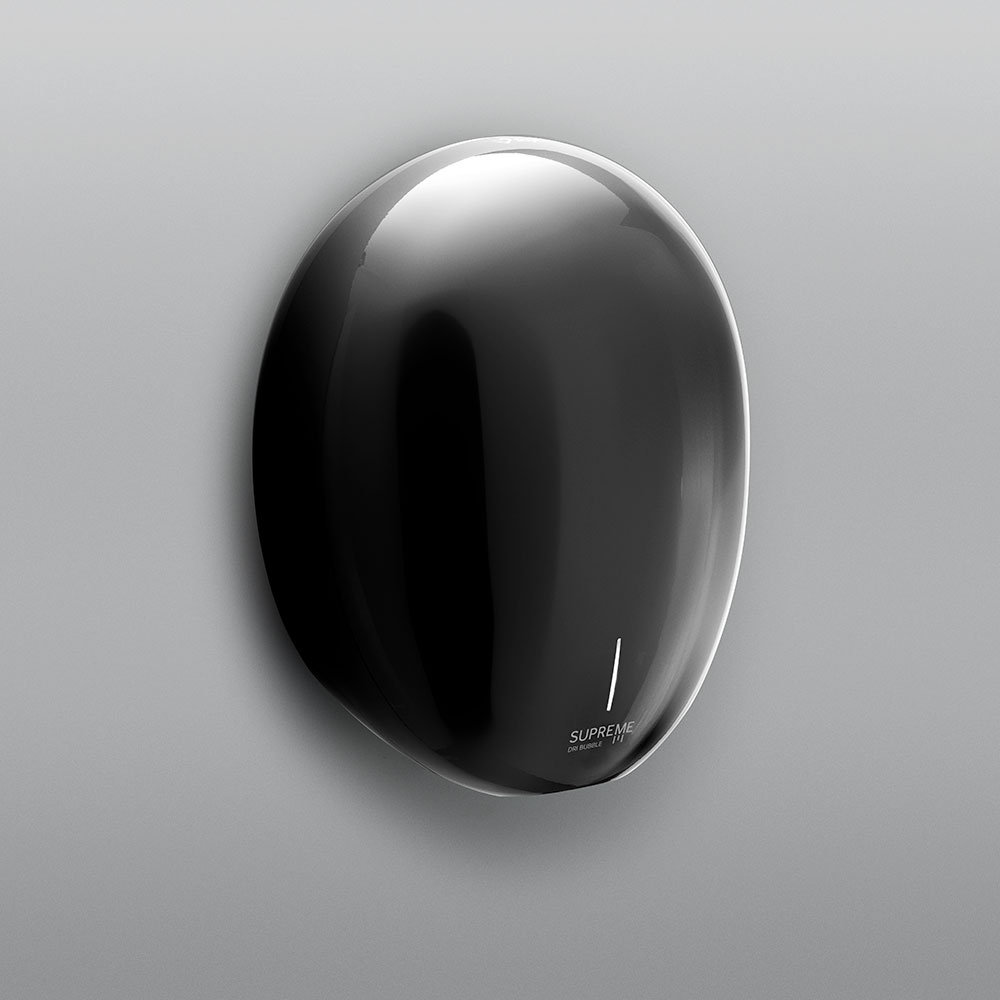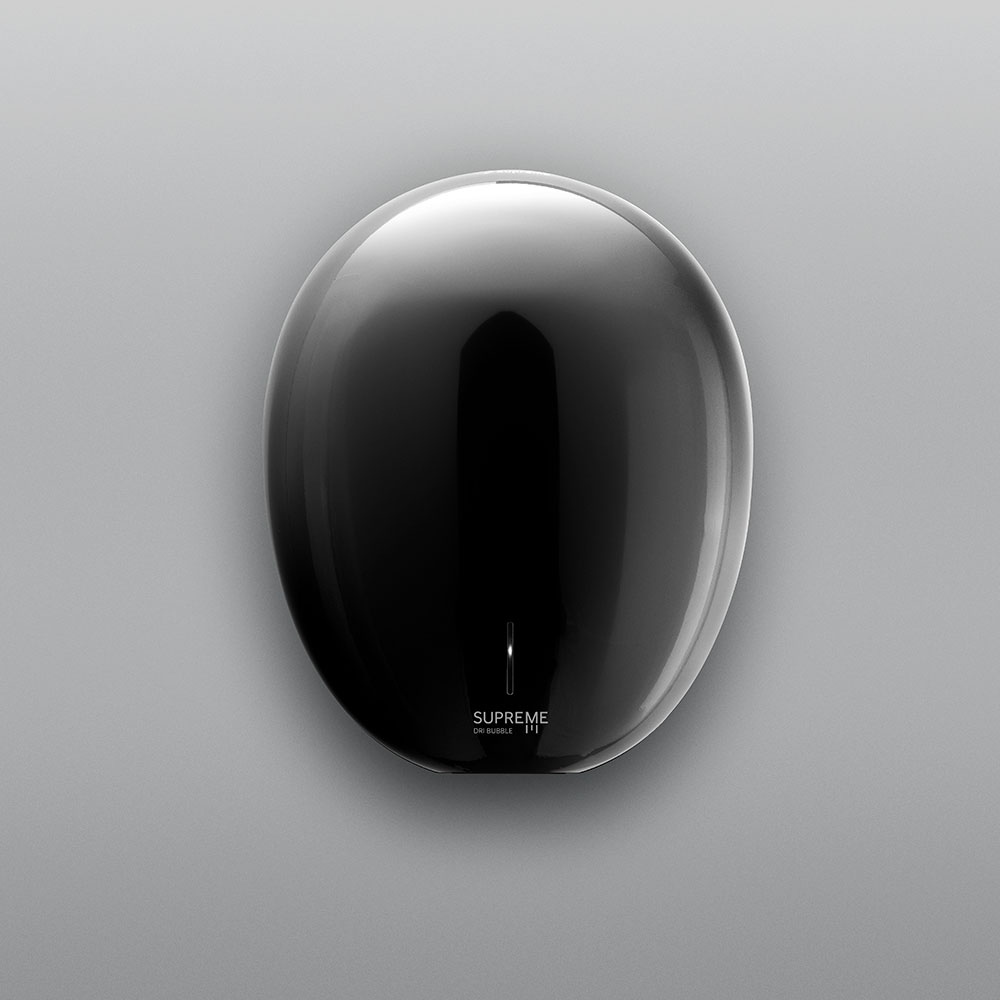 dri bubble dries hands fast using cleaner air and less power
HEPA filtration
H13 HEPA filtration removes more than 99.97% of particulates

Energy efficient
320W-720W of fast drying performance dries hands in 12 seconds

Quiet
Quiet Mark accredited – 67dBA
Supreme dri bubble
$833.54 incl. GST
Most Hygienic Features

Next generation engineering includes a UV-C lamp which sterilises the air killing trapped germs and bacteria, while the ION generator further neutralises pollutants and odours and H13 HEPA filters out 99.9% of captured particles.

'Click and Connect' System

Once the unique docking bracket has been wired in, the hand dryer can be removed without the need for an electrician, allowing for easy self-service maintenance and replacement.

Annual Run Cost - $8.64

(vs paper towels per annum $920.45)

*Calculated at kW/h rate of $0.32, for an office of 15 people (3x toilet stops = 45 dries per day) operating 250 days a year - versus a paper towel rate of 3 towels per dry at $90 per carton + $15 service fee to order, restock and dispose.
Specification
Cover
ABS ION pure infused coating
Motor
Digital brushless DC Motor 300W
Maximum Mode: 30,000 RPM; Quiet Mode: 21,000 RPM
Power
Maximum Mode: 320W heater off or 720W heater on; Quiet Mode: 130W heater off or 530W heater on; Standby < 0.5W
Element
400W – switchable
Rating
220-240V AC  50Hz, IPX3
Filtration
HEPA H13
Local Air Sterilisation
UV-C lamp & plasma ion generator operates sterilisation mode 1 hour on / 1 hour off cycle – Power 12W, Airspeed 17 m/s
Switching
Infrared sensor with blue light assist
Sound Level
Maximum Mode 72dBA @ 1m; Quiet Mode 67dBA @ 1m
Air Velocity
Maximum Mode: 96 m/s (345km/h); Quiet Mode: 65 m/s
Air Volume
Maximum Mode: 84m3/hr; Quiet Mode 57m3/hr
Dimensions
323H x 271W x 145D mm
Weight
2.6 kg
Warranty
The Supreme Comprehensive Hand Dryer Warranty – 60 Month Limited Warranty
Standards
Complies with New Zealand and Australian standards
Sterilisation

UV C lamp and Plasma ION generator

Dry Time

12 seconds

'Click and Connect' system

For easy installation and maintenance

Suggested Applications

High use public washroom, restaurants, cafes, bars, accessible washrooms, schools, single cubicle toilets, medical facilities, offices, tourist attractions, accommodation providers
Replacement Parts
You can buy replacement parts and consumables direct from our website.
Click through to our shopping cart.
View All